YOU JUST GOT OUT-CAUCASIAN'D
6 - Touchdown
4 - Tackle in backfield
5 - Tipped pass
FRIDAY
IT'S TOO LATE ALREADY. JUST DRINK WHEN TCU COMPLETES A PASS.
SATURDAY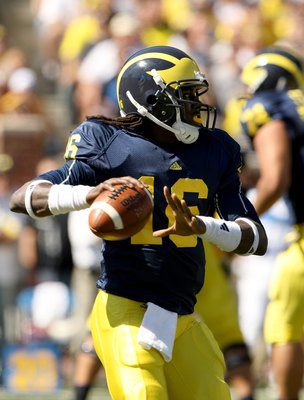 Best future draft bust EVER!!:)
Bowling Green vs Michigan - 12pm et - ESPN2
1 - Denard Robinson runs
2 - Denard completes a pass
3 - Kamar Jorden catches a pass
4 - "Heisman"
5 - "Terrelle Pryor"
700 - Michigan's dormant volcano explodes and kills Rich Rodriguez only.
Finish 2 beers for a Bowling Green win. Prepare for the good games
I rely on G. Gilbert. Suck on it.
UCLA vs Texas - 3:30 pm et - ABC or ESPN or ESPN2
1- "Texas running game"
2 - Garret Gilbert completes a pass
3 - Kevin Prince incomplete pass
4 - Johnathan Franklin TD run
5 - Garret Gilbert pick
500 - UCLA starts having intercourse with themselves and complete the phrase UCL-GAY.
Finish 2 more beers for a UCLGAY win. Better games are cumming.
IS THAT MICHAEL VICK?
Oregon State vs Boise State - 8 pm et - ABC
1 - Kellen Moore completion
2 - Jaquizz Rodgers run
3 - "BCS team"
4 - Kellen Moore TD
5 - "Heisman"
600 - Groups from
Westboro Baptist
come on the field and take Kellen Moore away because they think the name Kellen is gay.
Finish a beer if Oregon State wins. Then make your night like your house. OWN IT. OWN THAT SHIT. FUCK
BEN BERNANKE
.
SONG THAT WOULD TOP THE BCS RANKINGS FOR THE WEEK.
HERM SPERM
Selma Hayek is hot. Not just because of the boobs. Well, yeah, because of the boobs. But she also has a hot accent. And a umm .....(drools)....What was that? Oh yeah nice boobies.
Why yes, I have exquisite tits.