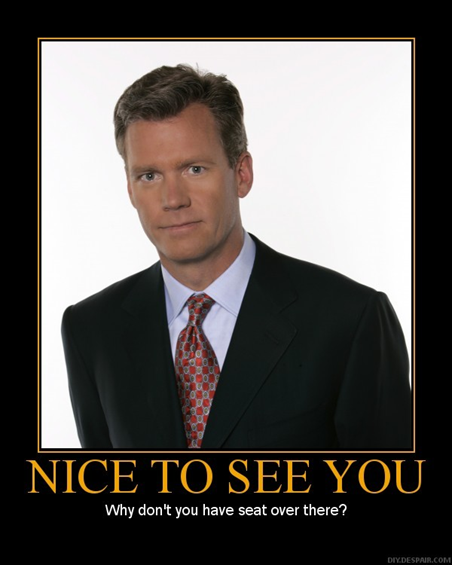 (Chris Hanson standing in an empty room with the lights out)
Tonight on Dateline, a disturbing trend among the ranks of college football. People have been beat, racisted, and yelled at. Young 20 somethings, working on their degree by way of football have received more than just a scholarship at the universities they choose. They have found some frightening experiences.
(lights turn on)
Those experiences all come down to one thing, Spread Offense.
(cut to interview with Michael Crabtree)
I see you're a bit shaken up, even now about the Spread Offense.
Michael - Yeah, I mean, I would have to run on tight ropes every day for the spread. Coach Leach would have us run 40 plays straight with no rushes. 40 *beeb*ING PASSES STRAIGHT. Do you know how that screws with my run blocking. I can't lock up a single defender out there any more.
How is the Spread offense effecting your everyday life Michael?
Michael - Well, Chris, it's bad. I get out of bed in the morning, and I feel this sudden urge to catch passes. It's all I can think about. So many passes. I dream of passes. When I watch Dora the Explorer - passes. I can't not think of them.
That's horrific. I am interested though, what did Mike Leach do when you said you were leaving for the NFL two years early?
Micheal - (horrified look on his face) He...uh...he..he said he would have me held out through six games of the NFL season. I don't know how he did it, but Jesus Christ, he did it.
(cut to Chris Hanson in empty room again)
As you can see, this is a horrible situation for most kids. So tonight on Dateline, To Catch a Predator: Spread Offenses.
(breaks for commercial)
We're back. Tonight we are going to sit in this abandoned locker room at
Hofstra
where we have planned on luring a coach out of the woodworks to show you the gruesome world of Spread Offense.
To entice these coaches to come, we have put Larry Johnson out in the locker room, and having him try to run over pylons. He's specifically trained to look horrible, in hopes of catching the attention of a cold blooded coach.
(shot of larry tripping over pylons, then tripping over oxygen.)
HEY. YOU! YOUR FUCKING HORRIBLE AT THIS. DO IT RIGHT OR I'LL PUNCH YOUR PENIS INWARD, SO FAR THAT YOU CAN FUCK TO THE RHYTHM OF YOUR HEART BEAT!
(In walks Texas Tech's
Mike Leach
)
Now, for you to do this right, we are gonna have to teach you to be a reciever. Ain't no (does quote hands) "running back" in the Spread offense, you dumb bimbo.
(looks over at Chris Hanson)
What is all these doo hickies and lights doin over here in my coachin' den?
(Chris Hanson looks over at his police guards) We're here to show the world the bad side of Spread Offense. Mike, Let's sit down and have a few questions.
Mike - Uh yeah. I mean. I didn't do anything wrong, did I? Are you saying this guy isn't a
real
football player?
Nope Mike. Trained actor (Larry Johnson sulks away, holding up the Roc-a-fella
diamond
and crying.)
Mike - Wait, so you did this on Twitter? Now I told you media guys, I don't do that, and neither to my players.
No Mike. We didn't...twitter?
Mike - Now, I never did nothing to my players if you're implying that. I don't hit anything, except my wife sometimes, in the heat of the moment if you catch my drift?
Well, we have video evidence now, that you are in fact a meanie Mike.
Mike - ....
Chris Hanson - ....
Mike - ....Yeah. I AM A MEANIE. I SHOULD BE! I AM A GODDAMN FOOTBALL COACH!
Mike settle down, MIKE (Leach begins running in circles, punching walls, and shooting his finger guns)
CURSE YOU WES WELKER! PEW PEW PEW!
(Chris Hanson leans to cops) You should probably do your job now.
(screen cuts back to Chris Hanson in empty room again.)
As you can see, don't let your kid go to a Spread Offense football team. What we have learned tonight is that not only are these coaches extremely heartless, they may also be brainless. They can't help but to feed of the fear of college students. They are the real life Dementors, and I am Harry Potter. From everyone here on Dateline, best wishes, and good night.