Sitting in my lecture hall for my finance class (a class with 400 people, me in the last row) playing
bubbles
, I was interrupted (rudely might I say) by the prof, who had a dandy story for the class. She, and some of the TA's, had accidentally locked the homework in the homework storage device. As the story progressed, she began to tell us her struggles with the maintenance staff (which is bad, if you haven't seen Summerfield Hall) and how they continually failed to reply to her requests. So, what does a Professor do when she needs brute force to open a file locker?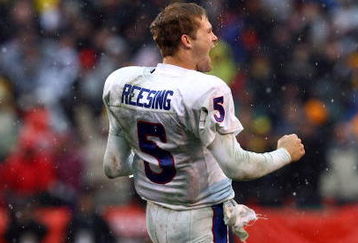 TODD REESING. Of course, with his godlike precision and skill, he quickly made that troublesome locker look like a
clown in a box
, as the papers filed out of the cabinet. All was well and good after the Todd rescued the homework. Syllabus' were now not conflicting with the teachers actions, and the academic community applauded his actions. It was a joyful experience, and almost (key word) erased the bad memories of the Colorado game. This Lil' Wayne
reference
doesn't hurt his cause either (fast forward to 2:15) Brisco is on that track with Dewayne, so it's almost a no brainer to rank Reesing and Lil' Wayne in the category of "best people to make a person named Brisco(e) famous."
Also on the KU front, Tyshawn Taylor reportedly wears his headphones (
Dre Beats
, you know, because he's
paid by the school
on scholarship) at least one to two inches above his ears. The debate rages on whether this makes any sense, considering: A) Your ears are what allows you to hear, and B) The headphones are not on his ears. Pluses for this use of
earware
include: allowing everyone around you to listen to your music, screaming profanity, as long as it is incorporated with the song,
showing off
to football players, and looking cool? In the end, I think we can all agree on one thing. Tyshawn Taylor plays basketball.