Oh, yes. We're about to get stomach-deep in the bitch known as politics. You might want to double-bag this one.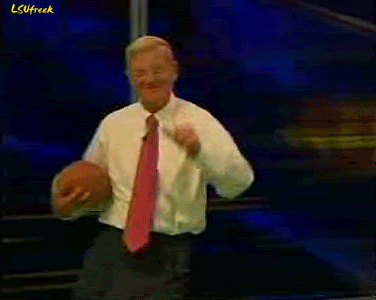 Before we dive in, lets recall a particularly befuddling prediction made by Lou Holtz last month, in which he proclaims Notre Dame will win the
National Championship
. Holtz's public display of disillusionment and separation from reality resurfaced in a recent
Wall Street Journal
article about the political affiliations of collegiate and professional head football coaches (the issue of this article's timeliness and relevance is an entirely separate story). Here are the coach's enlightening comments regarding why coaching reflects a republican/conservative mentality:
"You aren't entitled to anything. You don't inherit anything. You get what you earn—your position on the team," Mr. Holtz said. "You're treated like everybody else. You're held accountable for your actions. You understand that your decisions affect other people on that team…There's winners, there's losers, and there's competitiveness."
Congrats, Lou. You've effectively described every form of employment in the United States and perpetuated a stigma that Democrats are equivalent to socialists. Where is Dr. Kevorkian when you need him?
How exactly has Lou maintained his employment with ESPN? It's certainly not because of his
tact and sensibility
, or how he was hardly
held accountable
for his
impeccable insight
. And surely Lou's history as a coach doesn't
entitle
him to a position as an analyst, right? A prominent
Democrat
, who also happened to deliver the
commencement speech
at the coach's Alma Mater this past year, exhibited better sports foresight than Holtz.
If we give Lou's analytic skills the benefit of the doubt, and agree that Notre Dame's players over the past two seasons possessed enormous talent, then is
Charlie Weis
really being treated like
everyone else
?
If Republican coaches like Holtz ran the country, George Bush would be serving a third term and every year would begin with new prospects of a strong economy, only to end up like this: